Non-fungible tokens have introduced a new way for consumers to interact with businesses and the value they provide. The new business development they allow is providing consumers the choice to interact with them in a manner that best suits their needs. With the introduction of cryptocurrency, it was inevitable that we would see virtual reality. With NFTs and other token-based platforms, there really is no difference between people and their avatars because they have their own independent existence. The future looks bright for the digital world and it will be interesting to see which companies are able to provide consumers with a superior experience.
Here are Some New Business Model Ideas Through NFT Platform Development In 2023
NFT Business Models:
Decentralized marketplaces have been growing in popularity over the last few years. The reason for this is because of their transparency and user-friendly interfaces. A business owner can set up a decentralized marketplace with a built-in user base that is incentivized to buy, sell, or provide information about products or services. The business owner can then earn money by charging transaction fees and providing better customer service than centralized marketplaces. There are also opportunities for developers to build Dapps on top of such platforms and charge fees for the functionality provided within the app.
NFT Marketplace:
One of the most popular business models for using NFTs is an NFT marketplace. The owner of a business can take an existing product or service that needs to be sold, and set it up on a decentralized marketplace. This also gives them the opportunity to make money by charging transaction fees and providing better customer service than centralized marketplaces. These platforms are able to sell various NFts of a huge range, including artworks and photos, video highlights, JPEG images, pixelated punks, and other music albums.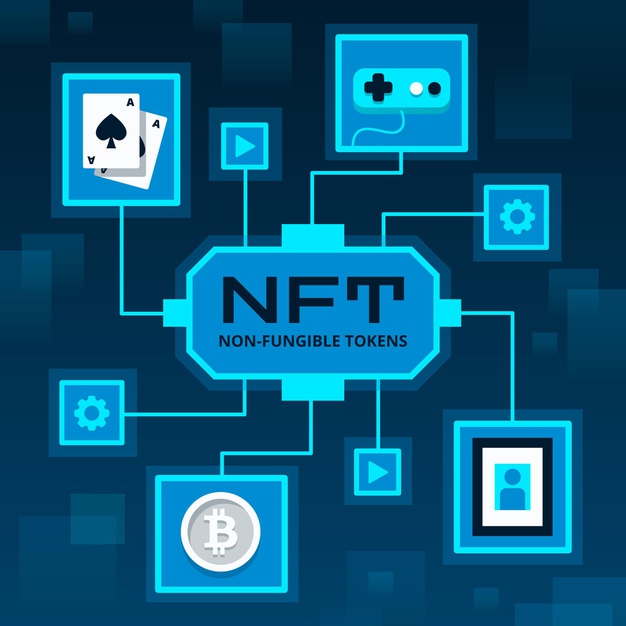 NFT in Real-Estate:
In virtual real estate, NFTs are pieces of land. They can be traded and they can also be attached to specific properties. The metaverse allows you to own exact plots of land, so you can be assured of full ownership in the virtual world. The real estate industry is one of the earliest adopters of NFTs. Using NFTs, real estate companies are able to create and manage a large number of listings, as well as analyze and advertise their inventory by offering a range of services such as analytics, listing matching, property search, and property evaluation. In the past, listing services have had difficulties managing their inventory and would often need to hire outside agents when more homes were listed and demand was high. With NFTs, these listing services can manage their own listings as well as provide a range of additional services without needing to do anything. This provides significant cost savings for both parties involved in the transaction.
NFT in Sports:
NFTs have brought new opportunities for sports organizations. Fans are able to support their favorite team in a whole variety of different ways without being limited by the traditional design of physical collectibles. Fans can now interact with athletes in virtual environments like during a metaverse meet. NFT business models are known to offer many routes, including collectible marketplaces and P2E fantasy games. These platforms typically offer exclusive access, increase validation and value for tokens, and promote progress within the community.
NFT Launchpad:
The NFT Launchpad uses machine learning and artificial intelligence to generate content for its users. It also has an incentivized platform where people can create content for subscribers by sharing their insights, knowledge, or expertise in any subject they are passionate about. This platform offers several benefits including NFT minting to keep your funds reliable and the launching of new NFT projects. The creators, on the other hand, get access to a pool of funds and leads that can help them launch their new project as well.
In a Nutshell
NFT's business model is very straightforward and easy to understand for both new and experienced users alike. This blog might be a sign of the beginning of your NFT venture this year. All about the basics, it has given an insight into what is involved in this type of business idea. If there's anything else that you want to ask, please reach out and schedule a meeting with Webcom Systems today.
Recommended Read: A Complete Guide on Cryptocurrency Wallet Development