About CVD - Tracking App
CVD – Tracking App has been developed using Geo-Fencing Technology to closely monitor the quarantine people by their higher administration or social workers. It is a mobile application with a user friendly web based admin panel. It marks and identifies the quarantine people and area, this way it spread awareness among people. Any movement in the marked quarantined area is directly reported to the higher administration to take further action accordingly to control the spread of the COVID-19.
How CVD -Tracking App is helping to control the spread
Every quarantined user once registered on the CVD -Tracking App is fenced in its quarantine zone. Quarantine zone could be between 20 meters to 100 meters radius depending upon the current COVID 19 spread in that particular area. The Spread Control Unit can monitor any movement within the area from the app admin panel.
In case any user breaks the quarantine zone fence then an alert will be sent directly to the control unit to take a necessary step to constrain the spread of covid 19 diseases.
The upcoming feature is to assign a QR code to the Covid-19 patient and it will change the color from Red to Orange to Yellow and Green on the recovery of a patient
Monitorization Features
CVD – Tracking App features for admin and user to constrain the spread of COVID-19 Disease.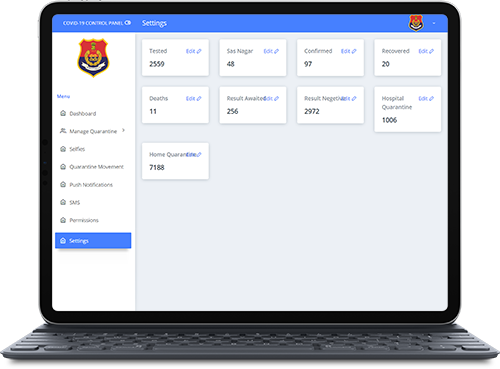 Check statistics
Both user and admin panel can check the real-time COVID-19 Statistics of their quarantine zone and city.
The app will show the following statistics on the account:
A. Total tested cases & Number of confirmed cases
B. Total recovered cases
C. Total number of deaths
D. Results awaited
E. Total number of results that are negative
F. Number of Hospital Quarantine
G. Number of Home Quarantine
H. Number of Active Cases
Admin Control
In the spread control unit, an admin will be notified in case any user violates the Geofence. Control unit administration can monitor more people with less staff.
If any quarantined user breaches the Geofence, he/she will get a warning message form the app and the admin will get a buzzer in the control room that a user has breached the Geofence and quick action is required.
Following are the modules in the Admin Panel:
A. Manage Quarantine
B. Manage Photographs
C. Quarantine Movements
D. Push Notification
E. SMS
F. Permission (Role-Based Access Control)
G. Settings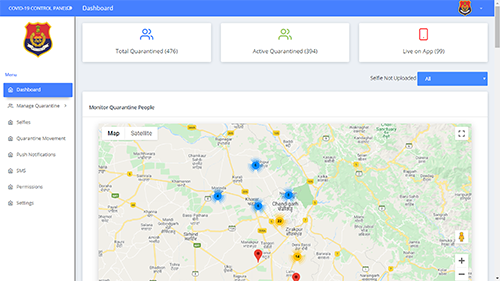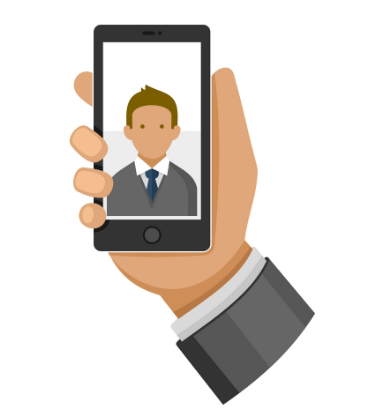 Upload Selfie
Every quarantine user has to upload his/her selfie every one hour. This way the system will locate the location of the user and match the user location on the admin panel. In case of any violation, immediately a notification will be sent to the spread control unit to take the necessary action.
LET'S GET CONNECTED
First step towards transforming your ideas in to reality.
Want to work with Webcom Systems?
Click on the button below to know more.
<div class="close" data-animation="showShadow">X</div>
<h2 style="text-align: center;">Request a Personalized Free Demo of Order Matching Engine</h2>