The world is going to get Blockchain!
It is estimated that the Blockchains' market size is predicted to reach $ 16 billion by 2024 according to a report published by Global Market Insights. Isn't that huge? There are so many startups and companies that are willing to hire a blockchain developer to build digital exchanges, cryptocurrency exchanges, smart contracts, dApps, and ICOs.
But, the real question is that is it that feasible and easy for your business to hire a Blockchain developer? Certainly not. You might fall off-track while tracing a good blockchain developer. But, you do not need to take stress as Webcom Systems Blockchain Exchange Development Company has got you all covered by assisting you with all the required information. There are certain qualities that a blockchain developer must possess.
Checklist When Recruiting a Blockchain Developer!
A blockchain developer is a person who develops and optimizes blockchain protocols, crafts the architecture of blockchain systems, and develops smart contracts using blockchain technology for your Company.
Now, let us shift onto the qualities that are advisable by our Webcom Systems – Blockchain Exchange Development Company that must reside in a blockchain developer. Let us begin:
Deep understanding of Blockchain Technology
This is the most important thing while hiring a Blockchain developer. Anyone who has studied how to be a blockchain developer is not a professional in reality. Make sure that you test the skills of the person who has come for an interview. Don't let them fool you with your only sugar-coated lines.
Concentrated understanding of Crypto-Economic Protocols and Cryptocurrency Framework
In this particular respect, focus on a person who has a vast understanding of crypto-economic protocol and frameworks. The framework should allow users to manage their data. The cryptocurrency protocol allows individuals to create an account – or a wallet – on a protocol that can be used to pay for services and make financial transactions on other websites.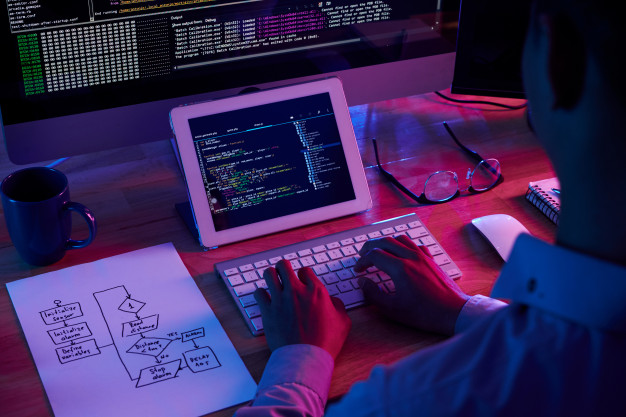 Diverse Knowledge of Decentralized Apps
Keeping in mind this specific aspect, focus on things like if they have created decentralized apps for their previous companies or if they have cybersecurity training in decentralized data. It is recommended to know the critical points about decentralized apps while hiring a blockchain developer.
Extensive understanding of smart contracts
You must understand that hiring a blockchain developer without knowledge of smart contracts is useless. It's like hiring a mobile app developer without the knowledge of iOS or Android. Ensure that the concerned person has the tiniest of knowledge about smart contracts and its algorithm.
Diverse development/ Code stack
Variety is not only the spice of life but applies to Blockchain development as well. Before hiring a developer, ask him if he has:
Utilised any frameworks in the previous companies.
Knowledge of how many languages to create codes for blockchain development.

Focused attention on user experience design
One of the most crucial things is to see whether the person has any knowledge about user experience design or not. You can better understand that running the Blockchain Exchange Development Company only is not important but customer satisfaction is equally important. With this quality in a blockchain developer, you can hit the holy grail of hires.
Availability to complete your project on time
What will be the point of discussing all the skills if the person incompetent to deliver the project on time for your Blockchain Exchange Development Platform? Ensure that the person is delivering all that you asked for on time. If he is an expert in completing the work in the given time, then congrats, you have targeted the right person as a blockchain developer.
The Last Word
Blockchain development is not a very easy going task for everybody. It requires a lot of efforts and skills to come out as a professional. The most important advantage of Blockchain development is that you can easily and efficiently trace all the transactions without even requiring a middleman. Also, it reduced operational costs. Webcom Systems Blockchain Exchange Development Company is a pro at developing blockchain software. You can actually consult Webcom Systems to get everything at ease and that too in one go.
Also Read: How Blockchain Development Technology Can Help in Cyber Security?